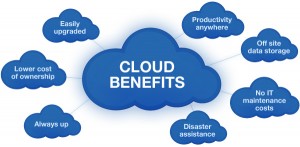 One of the biggest benefits of cloud accounting is that you can keep everything more organized. It can be really hard trying to make sure that all of the correct invoice, balance sheets, and other paper work you go through, stay in one place. Pieces of paper are easy to lose, and if you lose just one, you can be in for a long stretch of time trying to find it or recreate it. By moving all of your accounting to the cloud, you get rid of this possibility all together, hence, getting you more organized.
Another way you can benefit from using the cloud for accounting is the ease at working with other people, like your advisers. In the cloud, there are many people who can see the files and things in it, if you let them. By having things available in the cloud, your advisers and other accountants in the company can all work on the accounting from the same area. You do not need to copy papers, email them, or fear them falling into the wrong hands.
A great thing that has come about for the cloud in recent years is the flexibility of it. Nowadays, there are a number of these cloud based sites that have mobile apps. This means that you can work on your accounting while you are anywhere in the world. If you have the app on your phone or tablet, you can easily share or create documents on the go, which will all be saved to the cloud, instead of needing to email things back and forth.
Your life can get even easier if you decide to move all of your accounting to the cloud. No longer will you need to run after certain papers or fear them getting lost. In the cloud, everything is there for you to work on, no matter where you are located. Keep all the important aspects of your business in one safe place; the cloud.
Posted by: Tom Natsikas on 01/22/2016
Cloud Accountants.org
Accounting is a serious part of any business it is what keeps the money coming in and going out, in order to make it a successful company at the end of the day. But if you do a lot of accounting, and you are looking for a way to change how you store your company's accounts, trying out cloud accounting is a great way of doing that. You will be amazed at everything that you will find benefits your company after starting it yourself.